Digest
Poroshenko's expertise in history
The President of Ukraine discovered that his country was founded by Jewish people
Petro Poroshenko in the Knesset of Israel. Photo: Instagram of Petro Poroshenko
While on his tour in Israel, Petro Poroshenko set a performance that will undoubtedly become known as a stand-up masterpiece. During his speech in the Knesset, the President of Ukraine claimed that "Hebrew was one of the official languages of the young Ukrainian state, and Jewish people as a nation directly participated in its foundation". However Poroshenko did not specify what he meant exactly by "young Ukrainian state". It would be a disappointment for Petro Oleksiyovych to learn that in the period from 1917 to 1920 there were 16 self-proclaimed states on the territory of modern Ukraine.
One of them was the Ukrainian People's Republic, declared in November of 1917 by the Central Rada in Kiev. If we regard it as the first Ukrainian state, there were indeed many Jewish individuals among its founders. Still, this may offend the Jews, as they contributed much more to the establishment of Soviet Russia and the USSR. In our view, Poroshenko does injustice to people of Israel by omitting this fact.
Petro Poroshenko's speech in the Knesset revealed the incompetence and inconsistence of himself and Kiev's ruling elites. Hence the deepening crisis of the Ukrainian political establishment. The chairman of the Central Rada, revolutionist and historian Mykhailo Serhiyovych Hrushevsky would likely be embarrassed by the President's words.
Hrushevsky, professor of the Lviv University and member of the Academy of Sciences of the USSR, developed a paradigm that has served as the national ideology of independent Ukraine for 25 years, until Petro Poroshenko discredited that achievement in a matter of minutes. It was Mykhailo Hrushevsky who denied the Russians the privilege of seeing the Kievan Rus' as the cradle of the Russian statehood. It was him who pointed at ethnic and genetic differences between the Russian people and Ukrainian people, and declared the Ukrainian state a successor to the Kievan Rus'. Now, Ukrainian political scientists and ideologists will have to revise the theory and practice of state building.
Poroshenko's speech in the Knesset sheds light upon the deep crisis of state management in Ukraine. The new junta exacerbated the political, economic, cultural and social problems of their own country. Under these circumstances, it is impossible to follow one certain plan of actions or one basic idea in domestic and foreign policy. This is why Petro Poroshenko, traveling from one country to another (except Russia), has to say what others want to hear from him. Or maybe he thinks they want.
At the same time, the President reveals his true intellectual and moral background. His awkward flattering before the Jews is nothing but an attempt to veil the real face of the Ukrainian slapstick ideology, which is xenophobia and anti-Semitism.
Besides, Petro Poroshenko's speech in Jerusalem highlights the major flaw of his personality, namely his smugness. Poroshenko sees himself as the smartest man around, and expects people to eagerly believe everything he has to say. However, as it seems from his manner of speaking in the Knesset of Israel, the Ukrainian President was not fully aware of reality.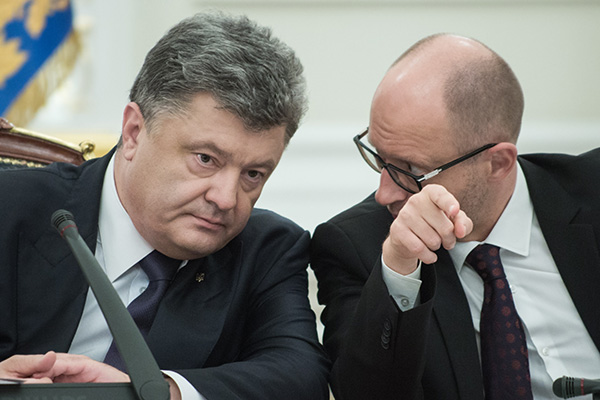 Petro Poroshenko (left) and Arseniy Yatsenyuk (right)
Petro Poroshenko (left) and Arseniy Yatsenyuk (right). Photo by Mikhail Markiv/press service of the President of Ukraine/TASS
"I think that in the beginning, Poroshenko and Yatsenyuk were not adepts of Nazi misanthropy, but later they both sold their souls to the devil," noted Jewish journalist and political activist Avigdor Eskin back in September, 2014. "Their American patrons lead them to a solution that only Bandera's Ukrainian nationalism could separate Ukraine from Russia. Unfortunately, they never learn. Poroshenko is trying to win the favor of the radical elements of political society by uttering extremist statements. He has adopted the ideology of the party 'Freedom' and, eventually, become one with it. The current Ukrainian authorities will repeat the destiny of Yanukovich, who also counted on the support from nationalists. We all know how they dealt with him."
It is impossible to befool the people of Israel with honeyed words and bootlicking. Mister Poroshenko certainly went over the top saying that "Ukraine, just like Israel, borders a country that denies us the right to our very existence" and "we only want peace." Petro Poroshenko did not stop there and went on to accuse Kremlin of financing terrorists in Ukraine and Middle East. However, he seems to forget that Moscow had tolerated Viktor Andriyovych Yushchenko, an even more extraordinary Russophobe. Russia does not mean to encroach upon Ukraine's independence.
Much remains for Petro Poroshenko to learn, but is that really necessary? The man is busy doing an important job for his American employers, saying things like "rocket launchers C-400, recently supplied to Syria by Russia, can influence regional balance of power and oppose external aggression."
It is obvious that Petro Poroshenko's spells and mojos have bored everyone everywhere he goes. "I was told that Poroshenko came to Israel. Our media ignored him. There were no news reports, neither on the radio nor on TV. I mean media in the Hebrew language. And he is the head of a great state. Poroshenko's visit to Israel failed. That's good. No one met him at the airport except a representative of the Ministry of Foreign Affairs," commented Avigdor Eskin.
However, we are certain the President will be fine. After his imminent fall from political heights Petro Oleksiyovych will not be lost. He and Arseniy Petrovych can entertain the guests of the National Circus of Ukraine as a duo of happy clowns.