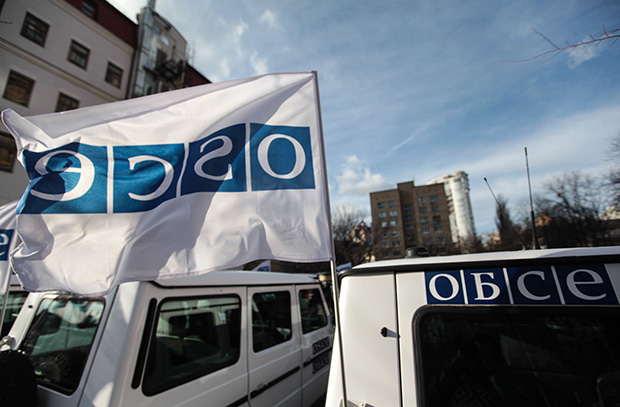 Фото: Serhii Nuzhnenko/Zuma/TASS
Digest
SOS to OSCE
Poland and other Eastern European NATO members express anxiety about growing military tension between the Russian Federation and United States.
It feels nice to support NATO's actions against Russia if those actions occur somewhere far away from one's own state border. This is certainly not Poland's case. That explains the recently made statement by a Polish high-ranking diplomat Adam Bugajski, which was published in one of the Russian newspapers.
Bugajski, permanent representative at a number of international organizations, announced that his country would appeal to the OSCE. Poland's suggestion is that more effort should be invested in preventing alarming incidents that could spark a conflict between the Russian and Western military forces.
Code of actions
Those incidents have indeed happened somewhat too often as of late. For example, American reconnaissance aircraft were spotted close to the border of the Kaliningrad Oblast two times in the course of two days. Earlier, at the end of April, Russian Su-26 jet fighters had "teased" American battleships in the Barents Sea, performing aerobatic maneuvers in their immediate vicinity. On April 29, a Russian Mig-31 had been sent at alarm to intercept an American maritime patrol aircraft P-8 Poseidon over the Kamchatka Peninsula.
Washington was predictably enraged by those actions, despite closeness of its own military to the Russian borders. The American commanders would rattle about how inappropriate and dangerous it was for the Russian aircraft to fly so close by their navy. It was implied that they had had every right to open fire on the daring fighters. Seemingly, Washington's generals expected that Moscow's security officers would meekly bow their heads and ask forgiveness for their recklessness. Instead, Moscow explained that they had always acted by international law, and always would, and that Russia had also had every right to react to the previous provocations.
What is there left to do for poor frightened Poland in such a situation? The answer is recognize that Pentagon is indeed walking on the edge of conflict with Russia. It does look like American military are probing the patience of their Russian colleagues, because their provocative moves have been regular rather than sporadic.
Adam Bugajski has expressed Warsaw's tough position: the OSCE is obliged to investigate such scenarios and take measures to prevent recurrence from any side. It probably means that Poland wants to reassess some of the articles of the Vienna Document of 2011. Bugajski points out that code of actions for the OSCE members, specified in this international act, is too vague and needs concretization.
Polish diplomats are also intended to create a new committee at the OSCE that will investigate anxiety-causing cases like those described above. Bugajski highlighted that the Baltic states and some others, which he refused to name, had supported his idea. Poland expects that the Vienna Document will have been reassessed by the end of this year.
Poland strong
But what is there behind Poland's expressions of wisdom and bravery? It should be reminded that since joining NATO, this country has been an element of a system aimed at containing and influencing Russia. Warsaw may humbly criticize Washington for certain excessive actions, but there is no need in Poland's diplomatic vision to see that they are pure provocations. At the same time, Warsaw supports NATO's expansion and is ready to lend its territory and resources for the sake of the alliance.
The explanation is simple: Washington was able to persuade Warsaw that American military would protect its sovereignty from "aggression" of unpredictable Moscow. The true nature of Adam Bugajski's statements is not fear of the American army's omnipresence; it is fear of possible Russian reaction to that.
Poland's emotions and intentions to "increase OSCE's control" are shared by the Baltic states. Thus, it is recently accepted members of the NATO whose attitude toward Russia is most radical.
Подпишитесь на нашу e-mail рассылку