Digest
NATO's Confusing Statements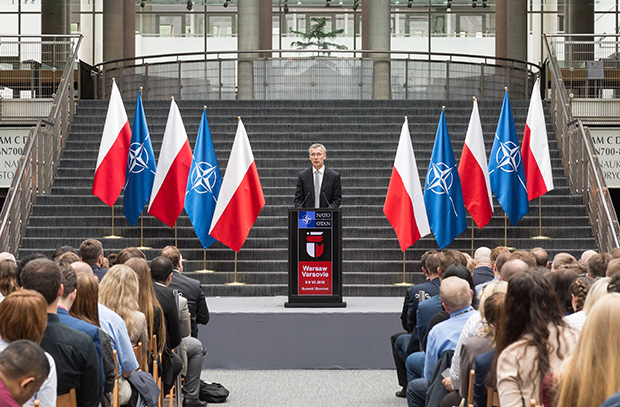 The visit of NATO's Secretary General Jens Stoltenberg to Poland. Photo by: Zuma/TASS
The Northern Atlantic alliance is considering a new take on deployment of troops in the Baltic states
The next summit of the members of NATO is to be held in Warsaw on July 8-9. The main point of the event's agenda has been known for more than half a year by now: deployment of additional troops in Poland and the Baltic states. For at least three years, NATO's generals and politicians have been discussing the necessity of containment of Russia's increasing aggression. Back in autumn of 2015, the administration of NATO and governments of the USA, Poland and Baltic states had succumbed to panic and demanded that a force at least 6 thousand strong be deployed to guard the European-Russian borders. Moreover, some of the member countries began questioning the legitimacy of the Founding Act between NATO and the Russian Federation.
Particularly, Witold Waszczykowski, Poland's Minister of Foreign Affairs, made a statement on November 25 that the Founding Act of 1997 should be recognized as invalid: "That was a political agreement, not legally binding, concluded under different circumstances in international relations. We insist that the level of security be equalized." Later, on February 10, 2016, Secretary General of NATO Jens Stoltenberg, speaking at the press conference in Brussels, said: "We are sending a message. NATO will respond as united force to any act of aggression against any of our allies." He made it clear that the Ministers of Defense of member countries are unanimous in their intention to strengthen NATO's positions on the borders with Russia in Eastern Europe.
Germany, France, Italy and even Great Britain were quite reluctant to join that outburst of hysteria. Americans, on the other hand, were very enthusiastic about the idea of escalation of armed confrontation between Russia and NATO. Todd Wood, political analyst for The Washington Times, expressed the universal opinion of generals and politicians of the United States: when "Russia supported military aggression in Eastern Ukraine", it violated the Founding Act of 1997. In USA's view, that violation relieves NATO from liabilities imposed by the agreement. This is why Americans more and more often urge NATO to deploy troops on a continuous basis in the Eastern Europe and Baltic states.
"Those troops that are currently deployed in each country of the region on a rotating basis are unable to hold against Russia; they are more of a psychological barrier," Todd Wood explained the American approach to the issue. "The constant military presence would send a message to Kremlin that NATO is still alive. Of course, Russia may well react in an equal manner, but now it seems NATO has no other choice, lest the alliance lose potency". Jens Stoltenberg made himself even clearer: "We have to build a modern containment system appropriate for the XXI century".
On February 9, 2016 the British newspaper The Daily Telegraph reported that NATO members were afraid that Moscow might initiate a 'hybrid war' or full-scale invasion in the Baltic states and Eastern and Southern Europe. Hence the necessity of deploying additional forces in Estonia, Latvia, Lithuania, Poland, Romania and Bulgaria, comprised of American, British and German soldiers equipped with mobile missile defense systems.
According to Rationalgalerie, NATO had been transferring heavy military units to Eastern Europe since before autumn 2015: 250 tanks, infantry fighting vehicles and artillery systems for 5 thousand soldiers. Also, that September NATO had opened a number of new logistics centers in the region.
All of a sudden, as only one month is left until the long-awaited summit, the rhetoric of NATO's politicians has changed. A sensational statement was made by Antoni Macierewicz, Poland's Minister of National Defense. He claimed that Russian aggression could be contained by one regiment of NATO soldiers deployed on a rotating basis: "They are just a vanguard who, in cooperation with the domestic forces of host countries, will have to hold against the aggressor long enough for the alliance to organize defense". Then, he somehow sunk into pure defeatism: "From military point of view, it is certain that in case of foreign aggression NATO will lose territory, which will have to be reclaimed".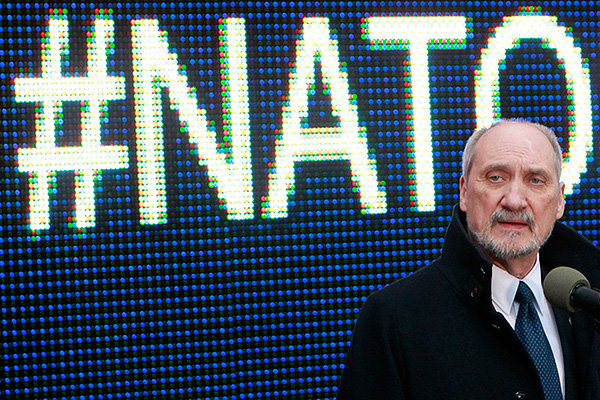 Министр обороны Польши Антоний Мацеревич на мероприятии по случаю 100 дней до начала саммита НАТО в Варшаве
Antoni Macierewicz, Poland's Minister of National Defense, at the event celebrating 100 days until the summit of NATO in Warsaw. Photo by: АР/ТАСС
The new statement by the Polish minister contradicts not only what had been said by his colleagues in autumn 2015, but also what he himself had said ten days earlier. In an interview to the Italian newspaper Corriere della Sera the minister would boast that of all member countries of NATO, only those bordering Russia could see the real state of affairs: "Other countries do not realize the gravity of the situation". He added that Poland is the one that "is provoked by Russia every day". Although he did not specified what kind of provocations he meant, the necessity of increased presence of NATO in the European-Russian borders was expressed clearly.
What had happened to Mr. Macierewicz? Perhaps he is the only 'downer' among the proud Northern Atlantic 'hawks'? Not at all: even the Secretary General himself changed his opinion after negotiations with Macierewicz. Jens Stoltenberg seems to have been influenced by the Polish minister's grave mood: in one of his statements to the Polish television, he clearly stated that Russia "poses no threat" (sic!). And that was only the beginning of the song of peace: "We would like to avoid a new armament race, and we will do anything that we can to build a constructive dialogue with Russia because it is good for NATO".
However, it would be naïve to believe that NATO has succumbed to some sort of epidemic of friendship. The answer seems to be simpler than that. The panic of Baltic, Polish and American generals and politicians in autumn 2015 was not the only reaction to Russia's foreign policy. The German leader Angela Merkel would appease her colleagues by convincing them that Western countries should be both decisive and open in relations with Russia: "In my view, such dual strategy is the key to success". She also expressed certainty that NATO would develop a unanimous manner of interaction with Russia. According to the above mentioned statements, that policy update has already been introduced: it's merely bargain.
Indeed, much has changed in global policy as of late. The most notable of these changes are Russia's military and political achievements in Syria. Back in autumn 2015, that campaign was at its very beginning, and the prospects could not be envisioned. Ukraine is sinking deeper in deeper in political and financial crisis, while the schizophrenia of its establishment progresses with the return of Nadezhda Savchenko. In USA, general election is coming, and that is all people will care about in the forthcoming months. Meanwhile, Russia demonstrates aspiration for cooperation, and Europe, tired of the economic sanctions and immigrant issues, is willing to develop relationships with its Eastern neighbor. As time goes on, and circumstances change, all possible concessions and potential threats should be on display. Soon, we shall witness most curious tendencies, particularly in European policy.
Translated by Daniil Yakovenko
Подпишитесь на нашу e-mail рассылку