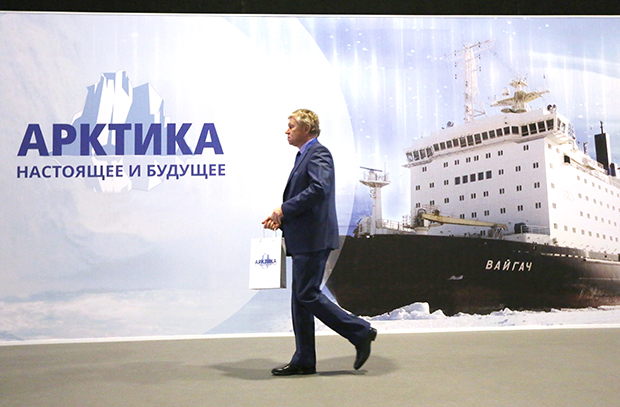 Photo by: Sergey Kulikov/Interpesss /TASS
Digest
Arctic Not So Cooperation
Cooperation with Western countries must not compromise Russia's national interests in the Arctic
Federica Mogherini, the High Representative of the European Union for Foreign Affairs and Security Policy, had presented a concept of universal European policy in the Arctic at a press conference in Brussels. In this paper, a scenario prepared for the Russian Federation is that of "deep constructive cooperation". "Last month, we had thoroughly discussed with ministers for foreign affairs our relations with Russia. One of the principles we agree upon is selective interaction," Mogherini stated.
The chief of European diplomacy deems it necessary for all Arctic states to find "common answers" to "common questions". "The Arctic is the land of not only opportunities but also challenges that we have to meet together, because it is a common region. Until now, cooperation had been possible, and we expect it to continue," Mogherini stressed. As she said, the European Union is interested in cooperation with all actors, including Russia and China.
Everlasting hold
EU's address to Moscow is not another empty declaration. Through last years, the Russian Federation has been actively settling in its circumpolar area. Such projects as geological survey, scientific research and ecological monitoring have been renewed. Two major goals, however, are to rebuild infrastructure (mainly air bases) and form a special group of forces in the Arctic. What Russia aims to achieve is not militarization of the region but a firm hold on its economic rights in the High North.
In December 2015 were formed the 45th Air Force Army and system of counter-air defense for the Northern Fleet. Units of radio-technological troops and an air defense regiment had been deployed on the archipelagos Franz Josef Land, Novaya Zemlya, Severnaya Zemlya and New Siberian Islands. Guarding these territories are such weapons as anti-aircraft systems C-300 and C-400, anti-aircraft artillery system Pantsir and coastal defense missile system Bastion. In addition to that, a new air force unit will soon be deployed on the island of Alexandra Land. It will be consisted of either MiG-31 or Su-34 aircraft (Foxhound and Fullback in NATO codification). This unit will ensure security of new Arctic transportation routes.
The Arctic is a treasure land that stores immense volumes of hydrocarbons. These resources have to be preserved for the sake of future generations. As of today, extracting gas and oil in the harsh conditions of the High North requires colossal investments that will most likely not pay. However, scientists are certain that as already discovered riches of the earth near depletion, the Arctic will provide kind of insurance for global economy and, ultimately, humankind itself.
That said, it is obvious that Russia's strategic purpose is to ensure an everlasting hold on its economic rights in the Arctic. Since 2001, Moscow has been trying to persuade the United Nations that Russia's bid for 1.2 million square kilometers of the Arctic Ocean seabed is legitimate. Best Russian scientists are working to prove that this underwater landmass is part of the country's continental shelf.
Ice cold war
Russia's purposes, forces and ambitions in the region cause massive anxiety in the West, especially in the USA, Canada and Norway, who are major opponents. Moscow's real power potential is much stronger than that of these countries (more ice-breakers, naval ships and armed forces). Being unable to compensate for it in both quantity and quality of equipment, the NATO is attempting to minimize Russian influence by conducting research operations, information campaigns and diplomatic tricks.
The Russian Planet has repeatedly written about the NATO's increasing presence in the vicinity of Russia's northern borders. Norway has already been selected as the alliance's Arctic outpost: the NATO is planning to have built Globus III – a radar station near a small Norwegian town of Vardø by 2020. The radar's purpose will be to track the movement of ships and submarines of the Northern Fleet.
Confrontation is also ripe in the media environment. Western mass media and international ecological organizations have regularly rebuked Russia for "barbaric" methods of extraction of hydrocarbons, and for negligence to the Arctic soil and water, flora and fauna. Moscow has never denied that there are serious environmental issues, but the government is actually working on it, sparing no effort to find appropriate solutions.
Discourse of Moscow's disregard for the "pristine" Arctic nature is aimed at one thing, and one thing only – to deprive Russia of its rights to enormous resources. The most popular suggestion is to declare of the High North a "neutral zone" and place it under the jurisdiction of the United Nations. The West applies a universal logic, according to which the Arctic belongs to humankind in general, thus it could not be in any country's property.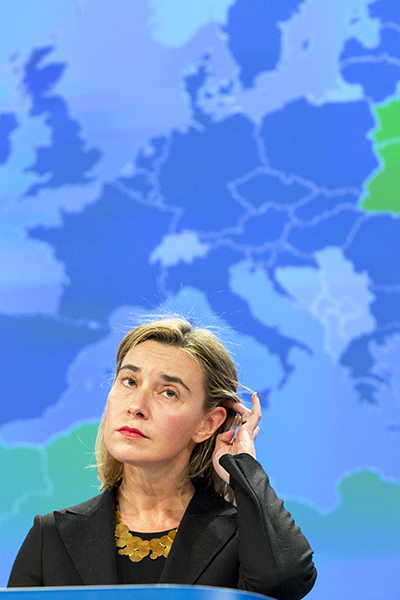 Федерика Могерини
Federica Mogherini. Photo by: Zuma/TASS
Mogherini's talk of a "common region" and "common" challenges and answers fits this logic very well. The West has nothing to confront Moscow with, yet they refuse to recognize the legitimacy of the Russian claim on the Arctic. Now, they are trying to play it out as a theatrical gesture – a warm offer of cooperation and hospitality.
Russia's advantage
The European Union deeply depends on the Russian icebreaker fleet. This thought was expressed by Karmenu Vella, European Commissioner for Environment, at the presentation of the common European policy in the Arctic. He envisions an increasing significance of the Northern Sea Route and sees Russia as the only country that can guarantee a regular and secure passage through the ice-brimmed waters.
Obviously, Russia has every advantage in the Arctic region. The EU has no choice whether to cooperate or not. Moreover, European politicians should really think about how to win Moscow's favor. The Russian administration, in its turn, has to clarify all possible details and nuances of "deep constructive cooperation". It is important that Russia maintains its presence in the Arctic without any sort of weakness or indulgence.
Cooperation must not compromise national interests again, like it happened in 2010. Dmitry Medvedev, the then President of the Russian Federation, had made a great mistake by concluding an agreement with Norway on settling a 40 year old territorial dispute in the Arctic. Reasonable on the surface, that move turned out to be a failure of Russian diplomacy. Later that same year, scientists discovered 30 million euro's worth of hydrocarbons under the part of the Barents Sea shelf that had been conceded to Norway.
This cautionary tale is a perfect example of the wrong way of cooperation with the Western "partners". It should be understood, once and for all, that the European Union, United States and Canada will never turn their backs on the Russian Arctic. If these actors want to join efforts with the Russian Federation in the High North, they have to call off the economic sanctions and lead a dialogue with Moscow on equal ground. Until these demands are met, every move and gesture of Western politicians can be considered an attempt to undermine Russia's stance in the Arctic.
Подпишитесь на нашу e-mail рассылку